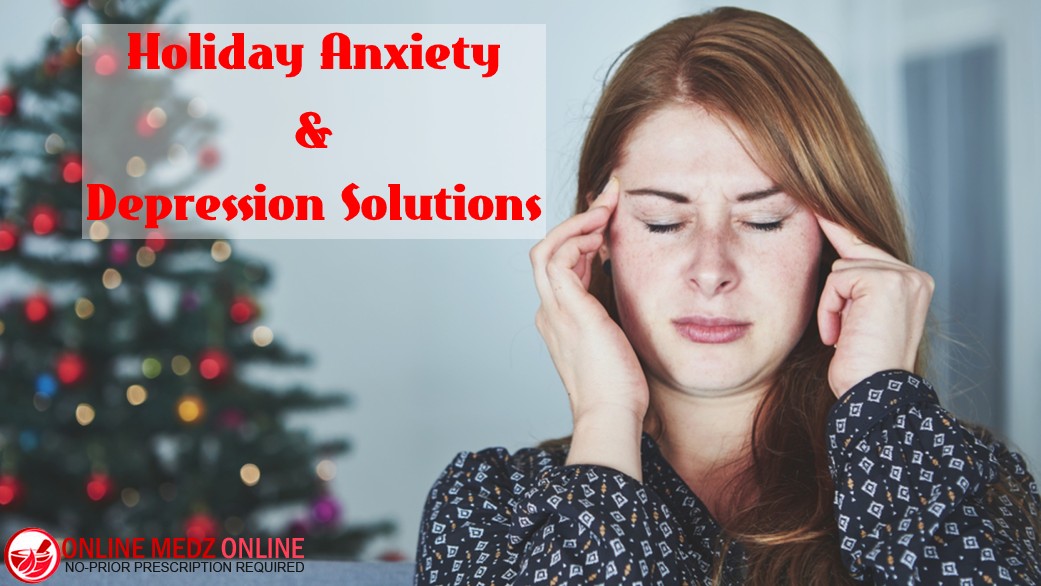 Holiday Anxiety & Depression Solutions
We all wait eagerly to welcome the holiday season, as the holidays are supposed to be full of celebration, excitement, and joy. For some, a holiday means meeting new people, celebrating, enjoying, throwing parties, or attending parties. Still, for some, the idea of entering a crowded room and chatting up coworkers or strangers at a party, exchanging gifts with friends, traveling from home, or attending large family gatherings can produce intense anxiety, depression, and other mental health problems. With the holidays, individuals can feel even more stressed out and overworked and tend to sleep less and eat more, resulting in unwanted weight gain. Social gatherings, the financial burden of purchasing gifts, and the pressure to feel festive and happy when you are depressed can trigger holiday anxiety and depression.
But with the help of some practical tips, you can minimize your holiday depression and anxiety more conveniently. You may end up enjoying this holiday season most.
The following are some tips that you can try out this holiday season:
Acknowledgment of your feeling
Though the holidays will knock on your door soon, it is still ok to take time to acknowledge your real feeling and trust me; there is nothing wrong with that. You can not force yourself to feel happy just because it's the holiday season. But don't be too harsh on yourself. Take your time and welcome the new beginning of your life.
Reach out to your loved ones
Feeling lonely and isolated is common during holidays. You can reach out to your friends and family via phone, video call, and share your concerns may help you to feel better. You can join some community or religious group and volunteer to help others who are in need. It is also a great way to lift the mood and broaden the relations.
Be in the real world.
You don't need to have your holiday as perfect as your friend's Facebook post. It will be best if you make it memorable and cherishable. You can try out something new this year; for example, you can decorate your house with some handmade decorative items. You can enjoy this holiday season by looking at some old photographs and cherish the moment.
Set off the differences
Accept the fact that no one will live as per your expectation, and the truth is that you are also not living as per the expectation of others. Try to accept the people around you as they are. Set aside your grievance and enjoy the togetherness of your family and friends.
Make some holiday budget.
It would be best if you understand that you can not purchase happiness with your money. Try to make an affordable budget for this holiday season. To acquire some internal satisfaction, you can gift some handmade gift items to your family and friends. You can also donate a little amount of your money to charity or for a good cause.
Plan for future
It will help if you start planning for holidays far before the holiday season. It will eliminate last-minute scrambling. You can get the best holiday season offer during Thanksgiving Thursday, Black Friday, and Cyber Monday. But don't let yourself stuck into Thanksgiving anxiety.
Say no to the things that make you uncomfortable.
It is not essential to participate in all the activities or events. You can deny going where you feel uncomfortable or unconscious. If you say yes when you want to say no can make you feel resentful and overwhelmed.
Don't be lazy
Don't let the holidays make you lazy. Try not to overindulge in the holiday celebration as it may result in stress and guilt. You can take care of the following suggestions while planning for the holiday.
Eat healthy snacks before taking a meal, not to overeat sweets or other unhealthy food items.
Get enough sleep
Eat healthily and happily
Workout daily
Try breathing exercises such as meditation or yoga.
Don't make the holiday season stressful for yourself.
Take a breather
Take off from your hectic life, and enjoy some time with yourself. Spending 15 minutes with yourself can do some magic. Within your self-time, you can enjoy the activities you like the most. You can try reading books, morning or night walks, and feel the beautiful nature, or you can listen to your favorite soothing music.
Ask for professional help if required.
Despite your ultimate efforts, you may find yourself feeling persistently sad or anxious, plagued by physical complaints, unable to sleep, irritable and hopeless, and unable to face routine chores. If these feelings last for a while, consult your doctor or mental health professional. They can assist you with the best anxiety remedies and depression remedies, or other mental illness remedies.
Sometimes the reason for anxiety or depression is not specific; it can be due to a change of season. When depression hits somebody during a particular season, it is known as a seasonal affective disorder or SAD (commonly known as winter blues or depression in winters). It starts with the winter and resolves automatically during the spring season. Doctors don't consider it a medical condition as it is not listed by the professionals in the Diagnostic and Statistical Manual of Mental Disorders (DSM-5) as a particular mental health condition.
The common symptoms of winter blues are hypersomnia, increased craving for food items rich in carbohydrates, and increased appetite.
Shorter days, falling temperatures, and the beginning of snowfall in winter can trigger feelings of low mood, lack of motivation, loss of interest, and fatigue in an individual.