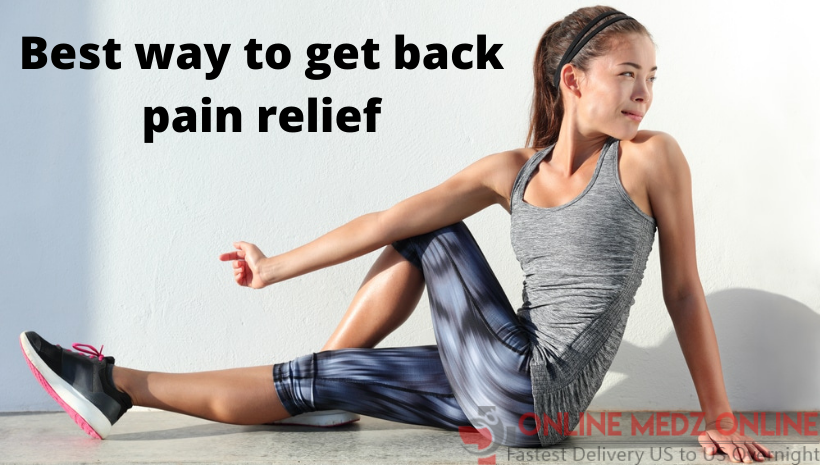 The Best way to get back pain relief
Do you often experience back pain? Read this blog to know some home remedies to relieve back pain.
Back pain is a common problem that interferes with a person's personal life and work. Back pain causes more global disability than any other condition. Up to 80 % of adults experience lower back pain at least once in their lives. People also experience pain in other areas of the back, including the upper and middle back. The spine and back muscles support much of your body's weight. A person uses the back muscles for everyday movements, including walking, standing, and sitting.
Fortunately, various home remedies exist to help relieve bothersome back pain. OTC pain drugs, such as acetaminophen or ibuprofen, can also help relieve pain. If you wish to try home remedies for their back pain, some of the following treatments can help.
Exercise to get muscles moving.
It can be difficult to get up and get moving when back pain occurs. However, a short walk, water exercise, yoga, another low-impact activity may often help alleviate back pain. Exercise will loosen tense muscles and release endorphins, our brain's natural painkillers. You must also consider starting a daily exercise program, including stretching and strength training to help keep muscles strong and flexible. Regular exercise can avoid future episodes of back pain that occur due to stiff muscles.
Use heat and cold.
Studies show that cold and heat are efficient ways to relieve back pain. Ice packs are most helpful when a person uses them directly after an injury, like a strain. Applying an ice pack by wrapping it in a towel directly to your back may reduce inflammation. Cold can also provide a numbing effect for intense, sudden back pain. You can use cold packs designed for pain relief, use a bag of ice, or in a pinch, use frozen vegetables covered with a cloth to protect your skin from frostbite. It would be best not to apply ice for more than twenty minutes at a time.
A heating pad may also help relieve achy or stiff muscles. You should read and follow the instructions on any heating pad and check the temperature carefully to ensure it isn't too hot. If a heating pad is unavailable, you can use a hot water bottle or heat a cloth bag of uncooked rice in the microwave oven. You must also take care not to burn your skin with heat or ice.
Stretch
The following stretches can help relieve back pain. You must hold each stretch for about thirty seconds or as long as you feel comfortable.
Touching your toes– In addition to stretching the hamstrings, bending forward to reach your toes can help loosen your muscles in the lower back. 
Cat-cow pose– Beginning on your knees and hands, slowly alternate between arching your back towards the ceiling and dipping it toward the floor.
Cobra pose– Lying on your stomach, with your hands face down beside your shoulders, gently lift your chest so that the top of your head points towards the ceiling.
Child's pose– Sitting on the heels with your knees hip-width apart, lean forward to place your head on the floor while stretching your arms out in front of your head.
Apply a pain relief cream.
Various pain relief creams can provide some relief from back pain. These are readily available online and in pharmacies. Creams that contain capsaicin, a compound often found in hot peppers, can also help relieve pain. Pain relief creams containing menthol have a cooling effect that can temporarily dull back pain. Applying menthol to your skin can desensitize pain receptors in your body. However, using a lot of menthols can cause a person to be more sensitive to pain.
Switch shoes.
Wearing shoes that don't fit or offer no support can cause muscle strains in your back, legs, and neck. High heels, for example, can throw off your body's alignment, causing lower back pain. Wearing shoes that are not flat can also put added strain on the back and feet. Assuming you experience intermittent back torment, you ought to consider changing to shoes that fit accurately and backing your feet.
Make workstation changes.
Improper posture because of straining or slouching at a desk can cause back pain and other muscle aches. Using ergonomics to modify a workstation may help reduce pain because of poor posture. You must ensure your computer screen is at eye level and that your chair is at the correct height. Poor ergonomics at work can help reduce back pain and other injuries. If you do any lifting for your job, you should squat and use your legs and not your back for support. It would be best to use trolleys or ask for help while moving heavy objects.
Get enough sleep.
Research shows that rest aggravations can exacerbate the aggravation. Lack of sleep may also affect how much pain a person can tolerate. Pillows that are the wrong size, an uncomfortable mattress, or not getting adequate sleep can trigger back pain. Proper posture and alignment of your back are necessary for sleep quality and avoiding back pain in the morning. Make sure that your pillow is supportive enough to keep your back and neck in a straight line.